My mom gave me life, so the least I can do is take her on an all-inclusive vacation, right?
I'd been pushing her to do a mother/daughter trip with me for quite some time, and finally, the opportunity presented itself at the beginning of this month. Last Thursday through Sunday (Mother's Day), we headed to Punta Cana in the Dominican Republic for the blue beach, to bask in the sun and bronze burn our booties.
Right away, it was an adventure. We were greeted at the airport and escorted to the shuttle that would take us to our resort, where we met a couple visiting Punta Cana for their third time. Turns out they knew my aunt and uncle. You may think, how does that even happen?! But growing up in a small town, and attending a small college, showed me years ago how strong connections can be and how fast they spread. I can't say I was even fazed.
And then my mom (making conversation, of course) asked them the question: "Are the native people here really poor?" Embarrassed, I tried to shush her, but she went on, loudly. "They seem really poor." All in earshot of our driver, who was clearly a native of the country. *face palm*
It was like that scene from Mean Girls.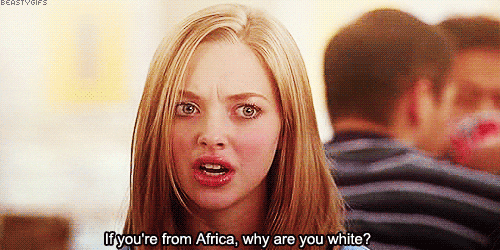 A small part of me worried what I was getting into, but I just laughed. This was going to be a trip! We got dropped off at our hotel and were greeted with a flute of cold sparking juice and damp, cool washcloths to put on our necks to relieve us from the heat. My mom, as you can see, was in heaven. "I'm never leaving!" she exclaimed. Below, you can see the photos of our hotel and beach areas. (That flamingo was kind of a bitch.)
Although mom doesn't drink, she was loving the non-alcoholic cocktails and smoothies. Every day, she'd say, Let's get a drink. Oh gosh, I sound like such a lush! We spent the majority of our time relaxing at the beach laying out or under the shade of the bed, or hanging out in our VIP pool.
Steps to vacation: Eat, drink, relax, swim, sleep, repeat.
Then my childhood dream came true on Friday- I swam with a dolphin in the ocean. Absolutely everything I thought it'd be! They are such powerful, playful, and beautiful mammals.  Posters and knickknacks of them used to cover my bedroom from wall to wall growing up, and here I was, actually kissing them, swimming with them, having them jump over me. Surreal. Like a true mother, my mom's enjoyment came out of just watching my excitement.
As amazing as the views were, the best part of the trip was the talks we'd have before bed. Mom told me some stories from her childhood, how her parents didn't have money, and things she had done for fun. I told her my fears, my summer plans, vented about my "problems." She listened intently, giving advice like only she can do. We talked about my future: traveling, kids (no), marriage. Her regrets, and aging.
We never think about our parents getting older until we notice small things- forgetting something we told them, not being able to walk as far, needing glasses to read, getting frustrated with trying to teach them technology, my mom reading lips because she was struggling to hear me, etc. I have this irrational fear that because my mom handles literally EVERYTHING for our family and constantly has a mind that never stops running, that she'll develop Alzheimer's, though I know that's not how it works.
She mentioned, with tears in her eyes, that her mother would have never done something like this with her. She had died when I was six, and to be honest, I don't remember much of her. It hit me then that my mother was also a daughter. Crazy as it sounds, I forget that beyond being a mother and a wife, she is a daughter.  She is a woman who does not need to be defined by her roles. A woman who probably, even at 61, still has those empty spaces in her heart from the ones she has lost. A woman who still has dreams and needs and sadness and really tough days where she doesn't know what the hell to do. A woman who ignores those feelings because so many depend on her strength. That thought made me feel so guilty. I had been blind for so long. So insincere and thoughtless as a teenager, so selfish. So blissfully unaware of how lucky I am to have her.
People talk about how their mother is the glue that holds their family together…mine is the nails used to build us, the glue that keeps us, and the duct tape when all else fails. She has been my backbone in a lot of ways, and I can't picture a world with her not in it. My parents have worked their entire lives to provide a better life for my brother and I, and even in their sixties, they are moving firewood, taking care of my grandparents, managing three properties, and still picking up the phone when I call. As they near retirement (jealous) my hope for them is that they are able to relax and enjoy themselves.
Now that we're back in rainy PA, I'm reflecting on this trip and I know that was one of the reasons for going- for everything my mother has given me, it's always been my dream to give back. Since I can't buy her a house, or a brand new car, I figured my time and this experience would suffice. Another lifetime couldn't be long enough to learn from and be loved by you.
I love you mom, hope you had a wonderful Mother's Day. I'm always missing you.
Leave nothing but footprints,
take nothing but pictures,
kill nothing but time.